Article: The Top Moroccan Bedroom Decor Ideas for Your Home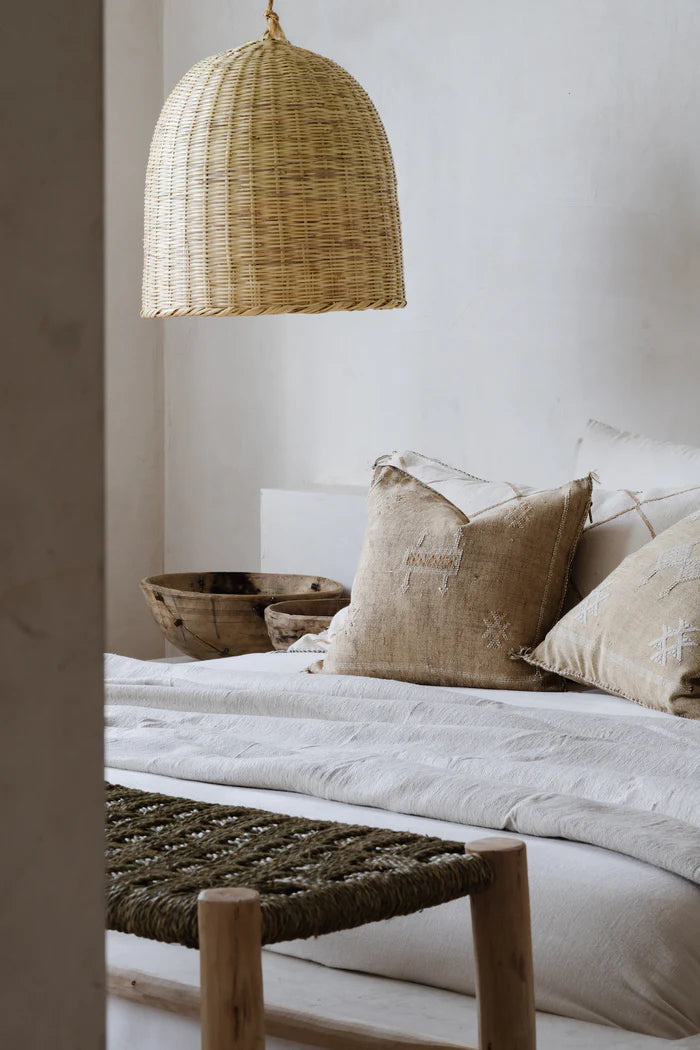 The Top Moroccan Bedroom Decor Ideas for Your Home
Are you looking to create a warm, inviting ambiance in your bedroom? This is where you start and finish each day - and thus, the importance of your design and aesthetic cannot be overlooked. It directly affects your mood and energy. This is why we personally love the unique vibe of a Moroccan-style bedroom.
But, how do you go about designing your own bedroom accordingly? You've come to the right place. Today, we'll share our favorite Moroccan bedroom decor ideas with you. These tips will inspire you to create a space you're truly happy in, and one you want to show off. The best part? You can find all these essentials at Canggu Home. Our collection of Moroccan home decor & Moroccan furniture is sure to impress - just take a look and see for yourself!
First, let's talk about what you should know about this design in general - and why creating a Moroccan-style bedroom is such a great idea!
What is Moroccan Design Style? History & Characteristics
The Moroccan design style is a beautiful fusion of Middle Eastern, African, And European influences. It's often referred to as "Arabesque" due to its Moorish roots. You'll find intricate patterns, bold colors, and natural materials throughout the decor and furniture in a Moroccan-themed bedroom. This creates an overall look that is both exotic and elegant - and here in Western civilization, incredibly unique!
One of the best things about this style is that it can be adapted to fit any space - large or small. Whether you want to go all out with Moroccan-inspired furniture and decor, or simply add a few key pieces to achieve the look, it's entirely up to you. There are no rules! However, we do recommend you read our complete guide on how to decorate Moroccan style. This resource will provide you with insights into bringing this vibe to life in your own space.
In the meantime, we're going to get started with a few of our absolute favorite Moroccan bedroom decor ideas. Keep reading to learn how to create a Moroccan bedroom style!
The Best Moroccan Bedroom Decor Ideas in 2022
Ready to discover the best Moroccan decor ideas for the bedroom? Down below you'll find some of our top recommendations for decor and furniture.
While you may not need to incorporate all of these into your own bedroom, it wouldn't hurt! We believe that anything worth doing is worth doing right - so, feel free to go all out with these tips. The final product will reflect how seriously you took your interior design.
Set the Tone with Colorful, Natural Moroccan Rugs
First and foremost, add some color and flair with Moroccan rugs. This is one of the most essential pieces in achieving this design style. They come in all different shapes, sizes, and colors - so you're sure to find one that fits your space perfectly. Plus, they add an instant touch of luxury and sophistication. Hang one on the wall as a piece of art, or use it as a focal point on the floor. Either way, it'll make a big impact.
Open up Your Space With Moroccan Mirrors
While your master bath undoubtedly has a mirror in, we're huge advocates of adding more mirrors throughout the bedroom - and the rest of your home, too. And it's not just because the intricate carvings and natural materials they're made from are so stunning - although that much is true, too.
Rather, adding Moroccan mirrors throughout your space reflects light and creates the illusion of more space - which is always a good thing! Place them opposite of windows to maximize the effect. This is one of the most important ideas for decorating a Moroccan bedroom, especially if space is a precious commodity. It opens up the room wonderfully.
Relax on Moroccan Poufs
Poufs are a type of Ottoman, and they come in handy as both a footrest and extra seating. They're often used in living rooms - but we think they make a great addition to the bedroom, too!
Add one or two to your space for an authentic Moroccan touch. You can chill on these while you tie your shoes, read a book, or enjoy a glass of wine while gazing out the window at the sunset - there is never a bad time to relax on your Moroccan Pouf!
Make Your Bed With Moroccan Pillows & Bedding
Moroccan pillows and bedding are essential in any bedroom design - so why not go all out with some beautiful, bold prints?
You'll find plenty of these pillows in our collection of Moroccan home decor. And, they'll add just the right amount of pattern and color to your space. The Cactus Silk Pillows we've curated are our personal favorites - they embody everything you know and love about Moroccan style.
Display Throw Blankets for Some Extra Flair
Whether you are only using them for decor or you actually end up bundling up with one, a Moroccan wool blanket belongs in any Moroccan bedroom theme - if not a few throw blankets!
These will prove to be a great purchase, especially in the winter months! They add an extra layer of warmth and comfort to your bed. And, they can also be used as a decorative element. Drape them over the foot of your bed or across a chair for a cozy, inviting look. Just be sure they're made from natural materials like wool, and have unique, Moroccan-inspired designs that fit the bill.
Light the Room Up With Moroccan Lamps
Another essential component of your Moroccan bedroom theme is the lighting. Moroccan style lamps are one of the most easily identifiable types of decor that fall under this umbrella. Just take a look and see firsthand - the natural materials and unique flair these lamps create will serve marvelously in your space. 
You can add a combination of hanging lamps or floor lamps - whatever makes the most sense for your bedroom. 
Use Natural Baskets for a Balance of Form & Function
Moroccan baskets are one of the very few "must-haves" in a Moroccan-style bedroom. They're both functional and stylish, serving as storage for extra blankets, pillows, or even clothes.
And, they add some texture and interest to your space. Below we'll provide some tips for bringing your Moroccan bedroom theme to life - and you'll learn the importance of texture. These are a great way to accomplish it. Look for baskets made of natural materials like straw or wicker.
Other Unique Decor Ideas for Your Moroccan Style Bedroom
In addition to the items listed above, there are plenty of other Moroccan-inspired pieces you can use to decorate your bedroom.
Think lanterns, candles, vases, and more. We even have some stunning bowls and utensils - but these are better suited to the kitchen. However, you can get creative and use these as an unconventional storage solution by your bedside or in your master bath!
Finish Up With Moroccan Furniture
Once you've got all your decor, you need to add a few finishing touches through furniture. Get a few Moroccan side tables for the room - the intricate carvings on these and the warm, natural materials are stunning! Every bedroom needs bedside tables, after all.
You can also add some additional seating in the corners of your bedroom with either Moroccan stools or Moroccan benches. These can replace your existing seat at your vanity or desk. Or, put the bench at the foot of your bed as a practical accent.
Tying These Decor Ideas Together to Create a Stunning Moroccan Style Bedroom
Now that you've gained the best Moroccan bedroom decor ideas, it's time to put them all together. Just throwing all this decor on the wall isn't the answer. You need to come up with a way to blend all these pieces together in a cohesive manner. Fortunately, it doesn't take a background in interior design to pull this off.
Here are a few tips to help you create a bedroom theme you're proud of - and one that truly provides the benefits of Moroccan style: inspiration, mood elevation, and energy!
Start with the basics

: A good foundation is key in any design project - and your bedroom is no exception. Choose a color palette and stick to it. This will help create a cohesive look throughout your space.

Add texture

: Texture is an important element in Moroccan design. Think about incorporating different textures into your space through fabrics, rugs, baskets, and more. This will add interest and depth to your room.

Choose quality over quantity

: When it comes to decorating, it's important to choose quality over quantity. It's better to have a few well-made pieces than a bunch of cheap, flimsy items. This is especially true for furniture - so be sure to invest in pieces that you'll love for years to come.
Final Thoughts on the Best Moroccan Bedroom Decor Ideas
We hope the Moroccan bedroom decor ideas we shared above provide inspiration along your own unique journey. And, now that you know how to create a beautiful Moroccan bedroom, it's time to make your vision for your Moroccan bedroom theme a reality. 
At Canggu Home, we make this as easy as possible. You can grab all your decor and furniture in one place and get to work putting it in place. 
When the project is all said and done, you'll look back and be glad you went with a Moroccan-themed bedroom. The energy you'll feel starting each day will reflect the warm, inspirational Moroccan culture as a whole. And, more specifically, you'll be glad you went with Canggu Home! Shop now and explore our catalog so you can bring your dream bedroom to life.